Dozers
Our ripper units are designed to rip in the heaviest of conditions. Our parallelogram design keeps the tines in the most efficient ripping angle, regardless of how deep you rip.
The high lift design gets the ripper up and out of the way to give plenty of clearance under the tines; which is ideal when moving your machine.
Ripper tine shanks are manufactured from high strength alloy steel.
Replacement points are made from heat-treated alloy steel, and designed for fast penetration and quick replacement.
Hydraulic cylinders are double acting.
Enquiry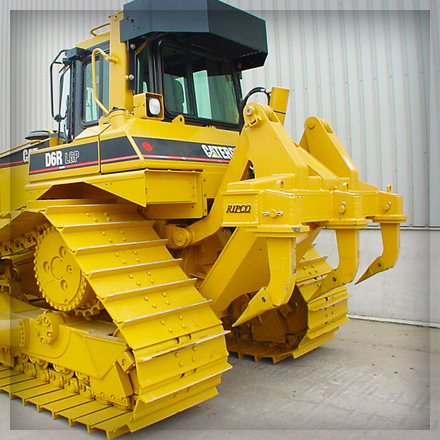 ripper, rippers, scarifier, scarifiers, attachment, attachments, cat, caterpillar, cat ripper, shank, bulldozer, dozer, tractor, track-type, track-type tractor, tracked dozer, motor grader, motorgrader, loader, tracked loader, track-type loader, construction equipment, construction, industrial, mining equipment, road making equipment, contractor, plough, mole plough, cable layer, riper, rippa, tyne, tine, shank, point, tip, ripper tip, diamond, vail, finning, cat dealer, ryan, komatsu, john deere, terex, used equipment, used construction equipment, used attachments, ripco, ripco ripper, single shank, singleshank, s/s, multi shank, multishank, m/s, D3, D3C, D3G, D4, D4D, D4E, D4H, D4G, D5C, D5G, D5H, D5M, D5N, D6D, D6E, D6G, D6H, D6R, D6T, D6K, D7, D7G, D7H, D7R, D7T, D8, D8D, D8L, D8N, D8R, D8T, D9, D10, D11, 931, 939, 943, 953, 963, 963C, 12G, 120G, 130G, 140G, 12H, 120H, 130H, 135H, 140H, 143H, 160H, 163H, 14G, 14H, 16G, 16H, D31, D41, D45, D60, D61, D65, D65E, D65EX, D65PX, D155, heavy equipment, manufacturing, manufacturer, 3 pocket beam, beam, pocket, parallelogram, radial, crawler, crawler loader, crawler dozer